100+ stunning free PowerPoint business model templates of major Business Strategic Planning Tools: the BCG Matrix, GE/McKinsey and Ansoff matrices, SWOT/TOWS Analysis, and the Porter's Generic Competitive Strategy and Five Forces models.

The 6 decision making tools and techniques featured in this PPTX document are among the most popular business strategy tools used by companies and managers for diagnosis purpose and to implement their strategic plans.
This marketing toolbox is great either for professional or educational purpose. This PPT file comes with popular marketing concepts explained, with author's quotes and even unique pre-designed templates with text placeholders. It also includes blank worksheet slides (e.g., for meeting or working sessions).
Uses modern, attractive and business colors (that can still be edited and changed if needed).
You can use most of the template slides as it comes: just copy/paste the ones you need into your presentation, essay or assignment!
The '100+ PowerPoint Business Model Templates' features:
100+ pre-designed unique and professional slides
Empty worksheet slides
Handcrafted flat icons
Fully editable content
All objects are 100% vector. Easy to customize style (e.g., fills, outline, effects and scale) without quality loss
Modern, attractive and business colors
Aspect ratio: Widescreen (16:9)
FREE fonts used: Calibri, Calibri Light (system fonts)
Format: PowerPoint (.PPTX)
License: Free – Attribution (please read carefully the 'Terms of Use' before using this template, restrictions may apply)
These free template slides for Power Point detail 6 essential analysis tools for business, management and marketing:
01. Boston Consulting Group / BCG Matrix (21 slides)
The Growth Share Matrix
To be successful, a company should have a portfolio of products with different growth rates and different market shares. The portfolio composition is a function of the balance between cash flows. High growth products require cash inputs to grow. Low growth products should generate excess cash. Both kinds are needed simultaneously.
The BCG growth share approach evaluates the strategic position of the business brand portfolio. This diagnostic and prescriptive model is often used to determine what priorities should be given in the product portfolio of a business unit.
The matrix:
On the vertical axis: market growth rate provides a measure of market attractiveness
On the horizontal axis: relative market share serves as a measure of company strength in the market.
It breaks down products into four categories: Dogs, Cash Cows, Stars and Question Marks: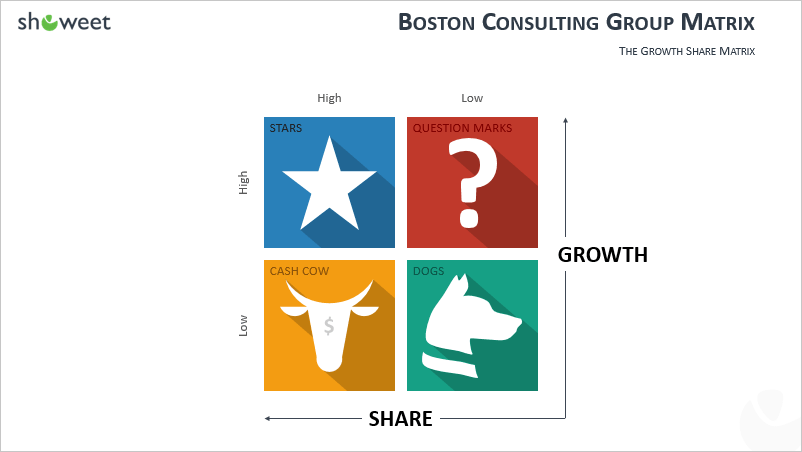 Other BCG Matrix templates:
02. General Electric / McKinsey Matrix (10 slides)
The Multifactor Portfolio Matrix
The GE–McKinsey nine-box matrix, (is) a framework that offers a systematic approach for the multibusiness corporation to prioritize its investments among its business units.
The GE/McKinsey Matrix is a diagnostic framework that classifies each SBU by the extent of its competitive advantage and the attractiveness of its industry.
The matrix:
On the vertical axis: market attractiveness combines market size, market growth rate, market profitability, pricing trends, competitive rivalry, entry barriers, etc.
On the horizontal axis: business strength encapsulates factors like market share (and growth), strength of assets and competencies, customer loyalty, relative cost position and profit margins, etc.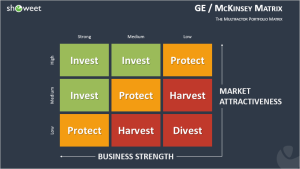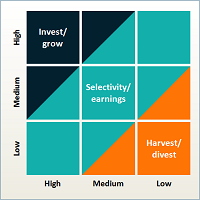 Other GE/McKinsey Matrix templates:
03. SWOT / TOWS Analysis Matrix (20 slides)
The Competitive Analysis Matrix
The SWOT analysis (also known as the reversed acronym TOWS) is the overall evaluation of a company's strengths, weaknesses, opportunities, and threats.
The situational or business policy framework allows to assessing an organization's internal capabilities and capability gaps (strengths and weaknesses) and matching these to the external environmental conditions (opportunities and threats) in which it operates.
The matrix:
On the vertical axis: factors divided according to external or internal control
On the horizontal axis: the positive (helpful) or negative (harmful) factors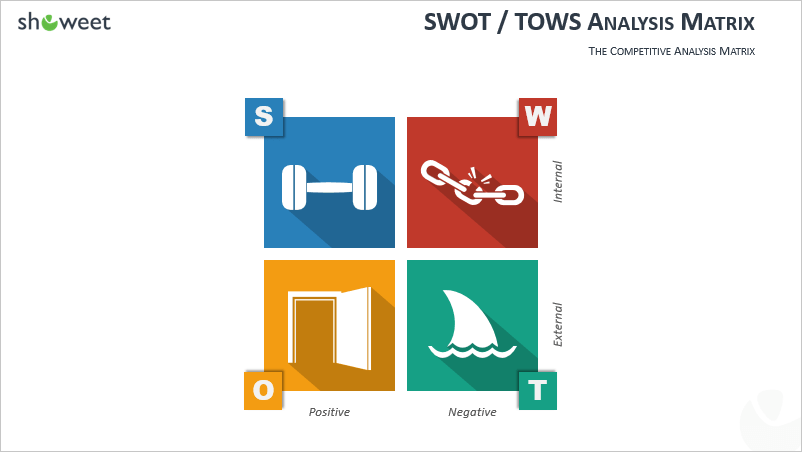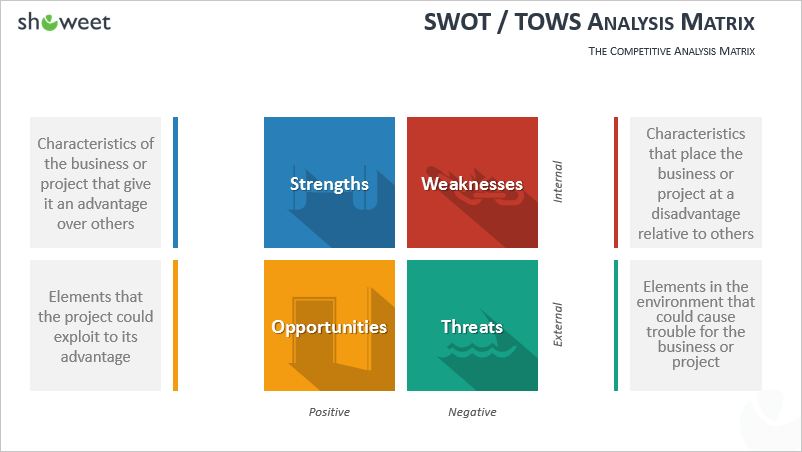 Other SWOT Analysis templates:
04. Porter's Generic Competitive Strategies (20 slides)
The Competitive Advantage Matrix
Framework that exposes three general types of positioning strategies to achieve competitive advantage. These three strategies are: Cost leadership, Differentiation, and Focus (or Market Segmentation).
A "Focus" strategy is narrow in scope while both cost leadership and differentiation are relatively broad in market scope (industrywide).
Porter added that a company could fall into the trap of being "stuck in the middle" of the generic strategies of differentiation and cost leadership, and thus failing to achieve any competitive advantage: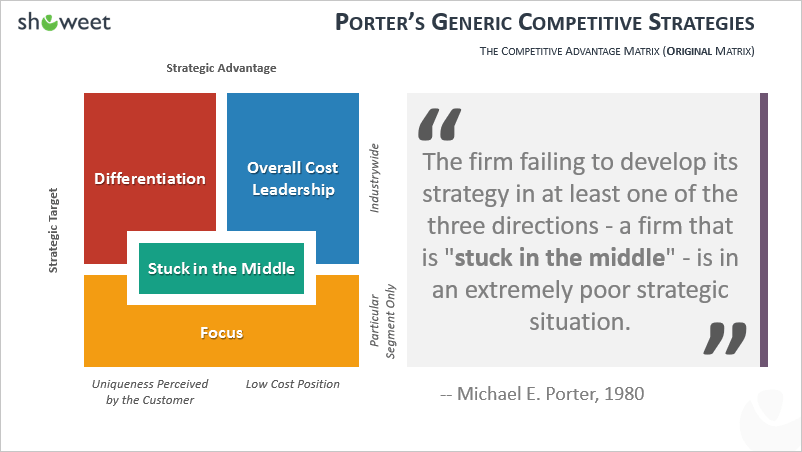 The matrix:
On the vertical axis: Strategic Target, looks at the size and composition of the market a business intends to target (broad, or narrow)
On the horizontal axis: Strategic Advantage, is a supply-side dimension and looks at the strength or core competency of the business (Low cost or Differentiation)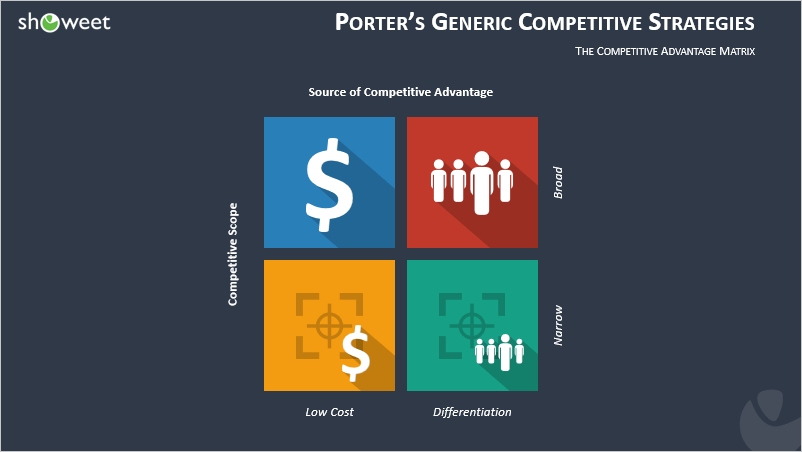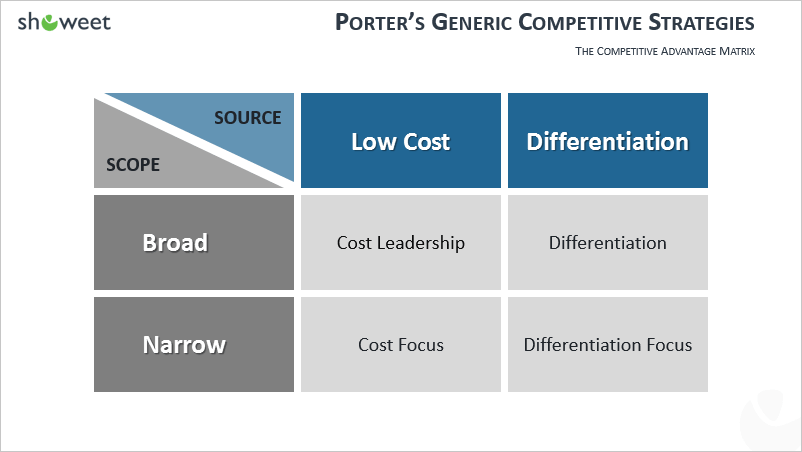 05. Porter's Five Forces Model (22 slides)
Forces Driving Industry Competition
The five forces model is a diagnostic model that helps managers with analyzing competitive forces in the industry environment in order to identify opportunities and threats.
The model:
Potential entrants which is the risk of entry by potential competitors
The intensity of rivalry among existing firms within an industry
The bargaining power of buyers
The bargaining power of suppliers
The threat of substitute products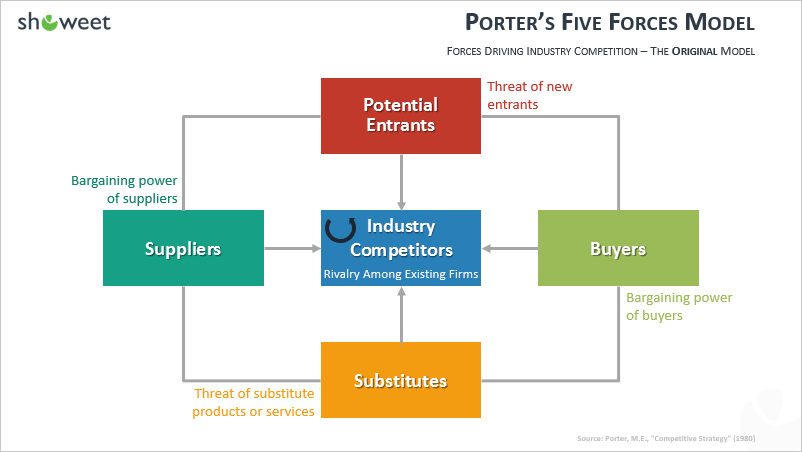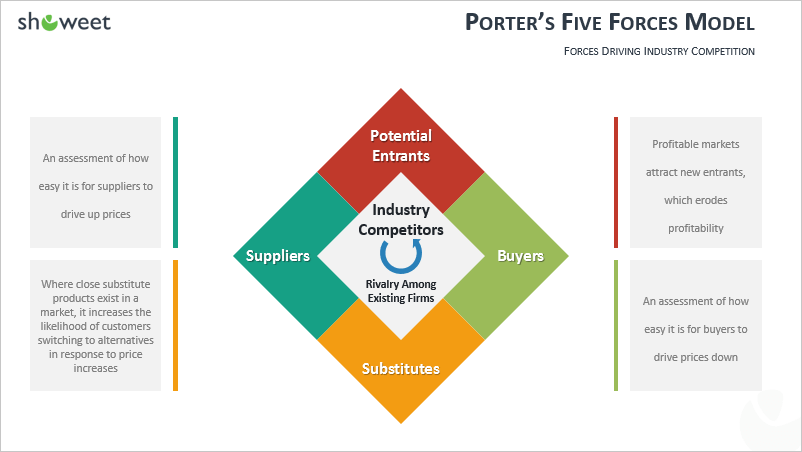 06. Ansoff Matrix (16 slides)
The Product-Market Growth Matrix
The Ansoff Matrix is a simple diagnosis framework which allows to structure thinking and helps a business determine its product and market growth strategy.
The matrix:
On the vertical axis: existing markets and new markets
On the horizontal axis: existing products and new products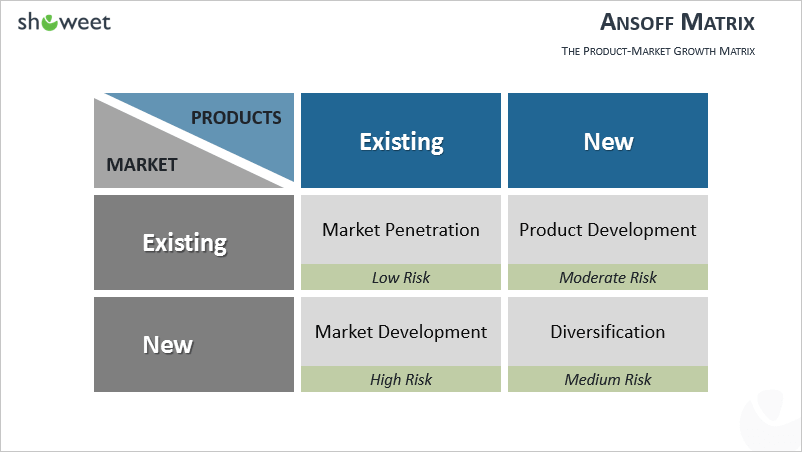 Presentation slides are organized into sections: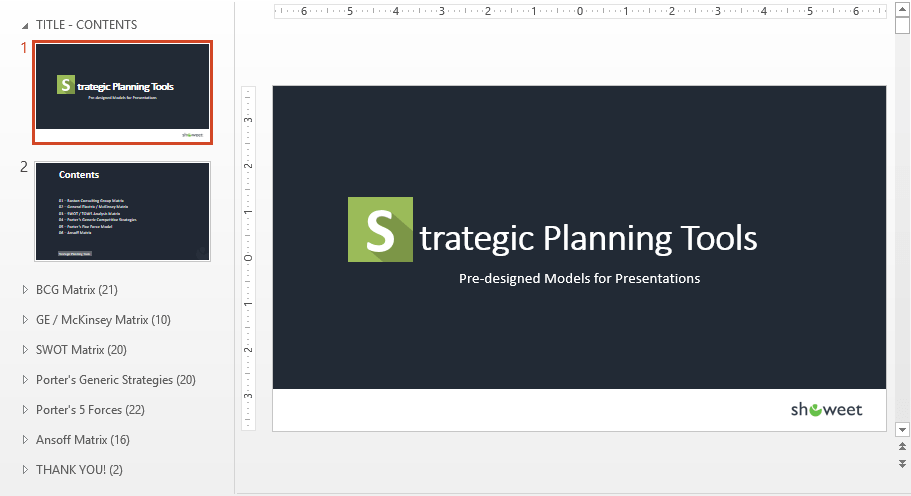 All the graphics are 100% editable: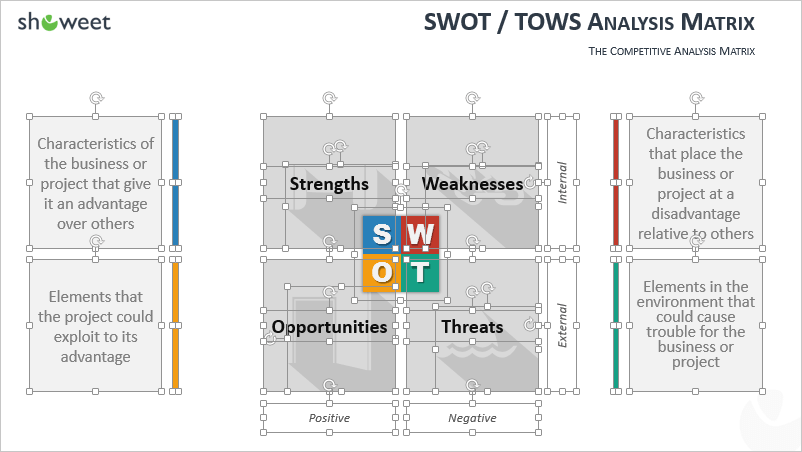 Most of the models come with worksheet templates: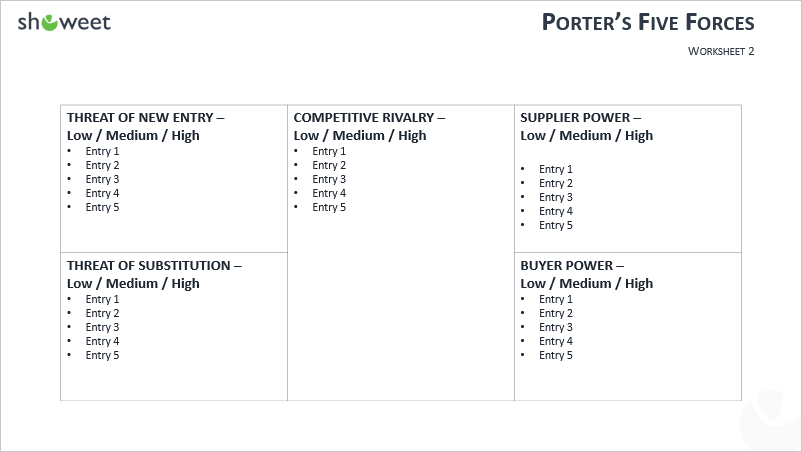 Slides included:
Slide size: widescreen (16:9) preview
Google Slides preview
Download the '100+ PowerPoint Business Model Templates' for free!