Free creative PowerPoint template with modern diagonal lines design.
Seamless abstract random rounded diagonal stripe background pattern. With a photo of a city skyline.
Creative, trendy and flexible PowerPoint template. It uses a stylish color palette (built-in) with dark grayish blue, vivid pink-red and light gray as primary colors.
2 size layouts are available for your convenience: standard (4:3 screen ratio) and widescreen (16:9).
The DIAGONAL template comes with pre-made and ready-to-use slides…
It contains a selection of 8 custom-made slides, ready to be used 'as it is'.
It is based on Master Slides: the format and styles (font, letter sizes, placeholders, colors) of each slide are already formatted, optimized and then very easy to use.
Slide variants include cover, section and title/content slides.
This PowerPoint template is very flexible and versatile:
This template is completely editable. You can easily customize the colors and change the photo displayed in the background (for that you need to go to the master slide – go to "View" >> "Slide Master").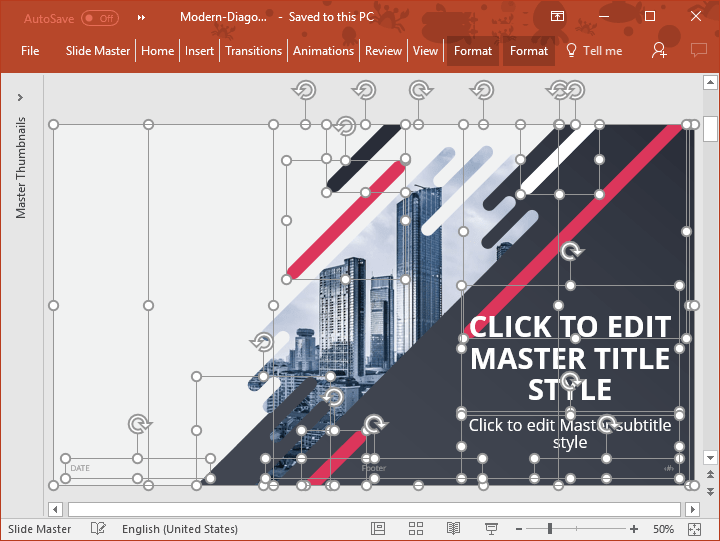 Conveniently, as the colors used are part of a built-in color palette, you can change the color theme of the whole template with just 1 click. To apply a new or to customize a color palette, go to "View" >> "Master Slide" >> "Colors" and select an existing palette or customize yours.
Examples with other ready-to-use Office color palettes:
The 'Diagonal – Creative PowerPoint Template' features:
8 pre-designed unique, clean and professional slides
Fully editable content (graphics and text) via PowerPoint – No Photoshop needed!
All objects are 100% vector. Easy to customize style (e.g., fills, outline, effects and scale) without quality loss
Built-in custom color palette – Modern, attractive and professional colors
Aspect ratios: Standard (4:3), Widescreen (16:9)
Format: PowerPoint (.PPTX) – Designed with Microsoft PowerPoint 2016
License: Free – Attribution (please read carefully the 'Terms of Use' before using this template, restrictions may apply)
Free font used:
Slides included:
Google Slides preview:
(Direct download from Google Slides is deactivated. To use this template with Google Slides, first download the .PPTX theme on your desktop, and then import it in Google Slides – read this tutorial)
Download 'Diagonal – Creative PowerPoint Template' for free!