A highly contrasted nature-inspired presentation theme for PowerPoint and Google Slides. Includes 26 slides with essential layouts and professionally designed infographics.
WOODEN LOGS is loaded with 26 pre-made slides.
First, you can select your layout from 14 different design layouts that are built in the master slide. When creating your presentation, you will need only one click to select your slide layout.
The master slide contains all the essential slides you need to design a stunning presentation: among these, the cover slide, section slides, slides with title and contents, and with picture placeholders (like 3 device mockups).
The presentation document offers a complete selection of background styles: either on the darker side (with brown wooden logs and/or green grass) or light (white wood pattern).
Blurry leaves subtly reinforce the 'nature' mood of this wonderful theme.
In addition, 14 amazing infographics will help you illustrate your message in an eye-catching manner. These graphics match the nature-themed presentation with independent elements visual elements that you can also find in the very last slide (graphic resources). Don't hesitate to create and customize yours!
Obviously, WOODEN LOGS is ideal for nature-related presentations in general. More specifically, it will be great for topics about ecology, environmental awareness.
An easy to use presentation template…
The format and styles (font, letter sizes, placeholders, colors) of each slide are already formatted, optimized and then very easy to use.
For instance, all the layout options with image placeholders will make your pictures or photos really stand out.
In addition, this template comes with a built-in color palette, so that you can pick a matching color very easily to create a very cohesive and harmonious look.
… that is "Drag and Drop" ready
All the slide layouts are based on Master Slides. All the picture placeholders are already built-in, formatted, optimized, and then very easy to use. Once inserted, your image will automatically adjust the dotted border brush shape.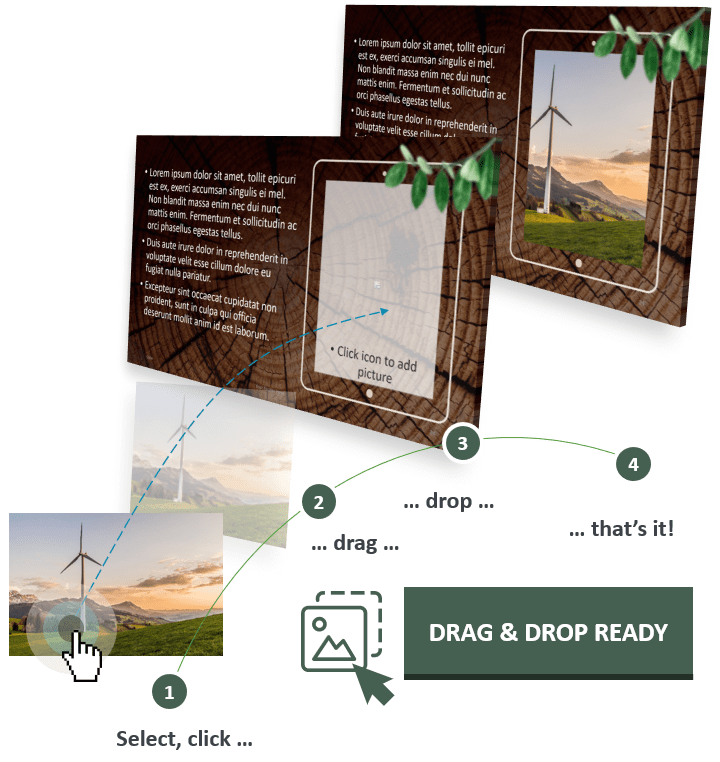 2 (optimized) size layouts are available for your convenience: standard (4:3 screen ratio) and widescreen (16:9).
The document 'WOODEN LOGS – Nature Template for PowerPoint and Google Slides' features:
26 pre-designed unique, clean and professional slides
14 custom master slide layouts
Drag & drop ready: master layout with picture placeholders
Aspect ratios: Standard (4:3), Widescreen (16:9)
Formats: PowerPoint (.PPTX) – created with PowerPoint Microsoft 365 and optimized for Google Slides (Cf. preview and access link below)
License: Free – Attribution (please read carefully the 'Terms of Use' before using this template, restrictions may apply)
Free fonts used:
Calibri, Calibri Light (System fonts)
Slides included:
Google Slides preview:
Open and use the Google Slides document
If you are prompted to
request access
to the file:
Try to login with a personal account rather than with a professional or school account (some companies or schools automatically blacklist external websites).
You can also request your IT manager to whitelist showeet.com.
Finally, you can simply download the PPTX/POTX version and import it into your Google Slides account. Please keep in mind that GGS does not support the picture placeholder feature though…
Download 'WOODEN LOGS – Nature Template for PowerPoint and Google Slides' for free!