Free multipurpose PowerPoint template. Professionally designed PPTX template. 180+ free high quality slides covering every aspect of any presentation: infographics, maps, charts, business models, essential layouts, icons, and more. For business, education or personal purpose.
Bring your presentation to a next level… at no cost!
Some professionally-designed PowerPoint templates can be find on specialized market places… for a price. But hey, why should you pay when you can get one FOR FREE? Let's be honest: this is probably our biggest release here ("större" in Swedish means "major", "bigger") so far. We spent hours crafting with extreme care this template to save you a huge amount of (your) work and time.
This free PowerPoint template is multipurpose. That means that:
You will basically find in this document everything you need for your presentation: from basic layouts, to very specific template slides, business models, infographic diagrams and maps… and much more.
It is versatile, and suitable for any kind of presentation: corporate, personal, to showcase your portfolio, for creative agencies, to present data analysis to colleagues, for internal reports, proposal documents… you name it!
Very functional, this free PowerPoint template is either just ready for your content, or very easy to edit, and customize if needed: colors, shapes, texts, charts… can be changed if you need some fine-tuning.
2 size layouts are available for your convenience: standard (4:3 screen ratio) and widescreen (16:9).
This free PowerPoint template comes with 180+ free high quality slides: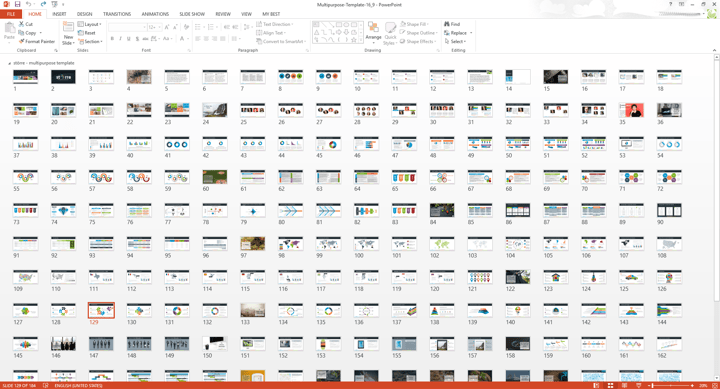 All the graphic elements and shapes are 100% editable: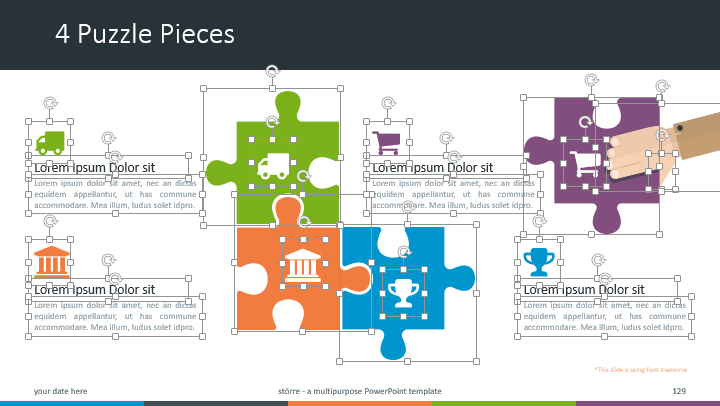 This PowerPoint template is built with ready-to-use image placeholders – Drag and Drop ready: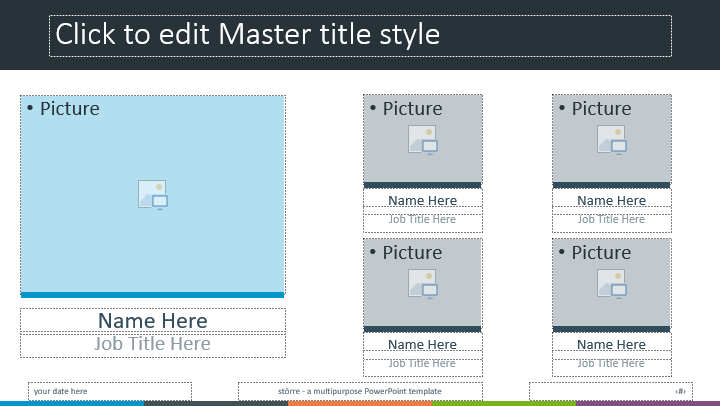 This PowerPoint Theme also comes with a Custom Color Palette: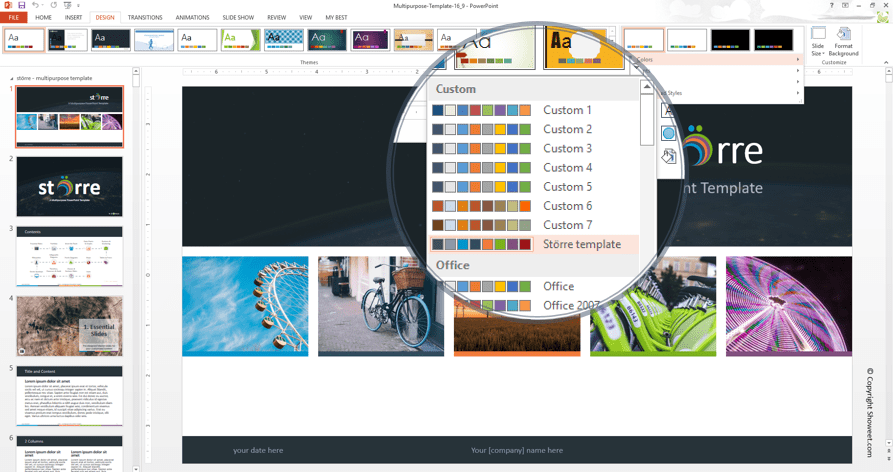 The 'Större – Multipurpose PowerPoint Template' features:
180+ pre-designed unique, clean and professional slides
Fully editable content
Drag & drop ready: Master layout with image placeholders
Fully editable content (graphics and text) via PowerPoint – No Photoshop needed!
All objects are 100% vector. Easy to customize style (e.g., fills, outline, effects and scale) without quality loss
Custom color palette – Modern, attractive and professional colors
Aspect ratios: Standard (4:3), Widescreen (16:9)
Format: PowerPoint (.PPTX)
License: Free – Attribution (please read carefully the 'Terms of Use' before using this template, restrictions may apply)
Free fonts used:
For some reason, there is an incompatibility with the latest version of FontAwesome (v5) and this template – as an intermediary solution,
please download and install a previous version
(v4), that your can find here:
https://fontawesome.com/v4.7.0/
Photos used:
Most of the photos displayed in the preview are not included – except for those used in "Closure & Sections Slides" part. The photos (free of copyrights under Creative Commons CC0) we used can be found on:
Full content and slides included:
01. Essential Slides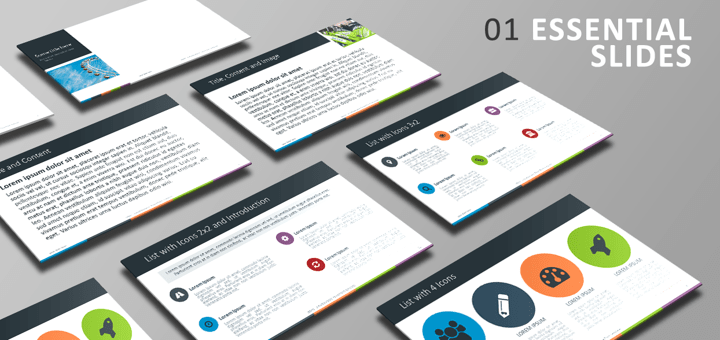 Pre-designed Master slides for your customized content. Basic layouts for your presentation. 10 slides.
02. Portfolio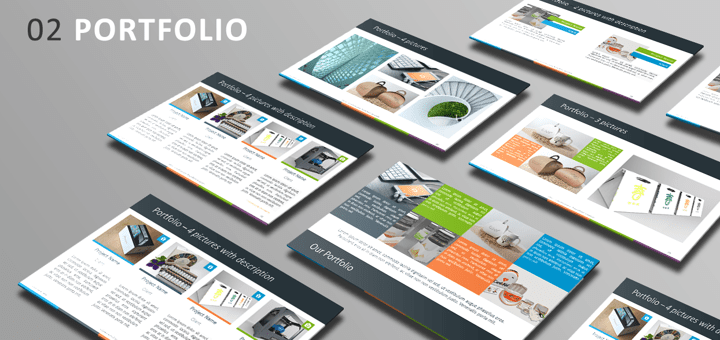 Present your portfolio with style. Showcase your creative portfolio with this easy to edit template (ready-to-use image placeholders). 8 slides.
Some examples:


03. Meet the Team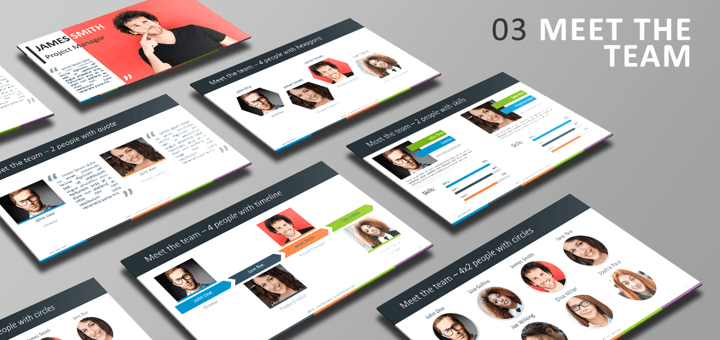 Present your winning team for a project. 11 slides.
Some examples:
04. Data Charts & Graphs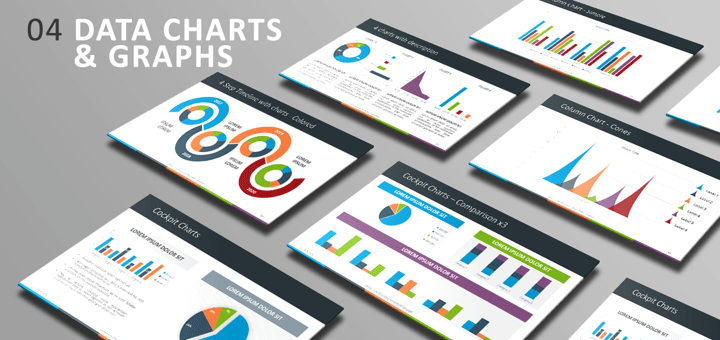 Present data effectively with these ready-to-use data driven charts. 23 slides.
Some examples:
05. Business & Marketing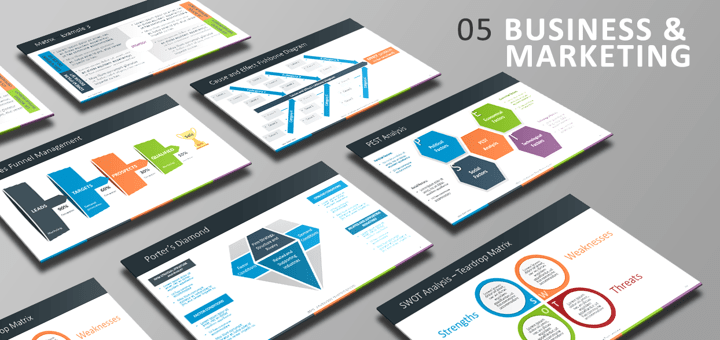 Most commonly used business and marketing models: SWOT, PESTEL, Porter's Diamond, Ansoff Growth Matrix, General Electric (GE) – McKinsey Nine Cell Matrix, Boston Consulting Group (BCG) Matrix, Strategic Position & ACtion Evaluation (SPACE) Matrix, Cause and Effect Fishbone Diagram, Sales Funnel Management, SMART Objectives and useful matrix layouts. 23 slides.
Some examples:
06. Tables & Prices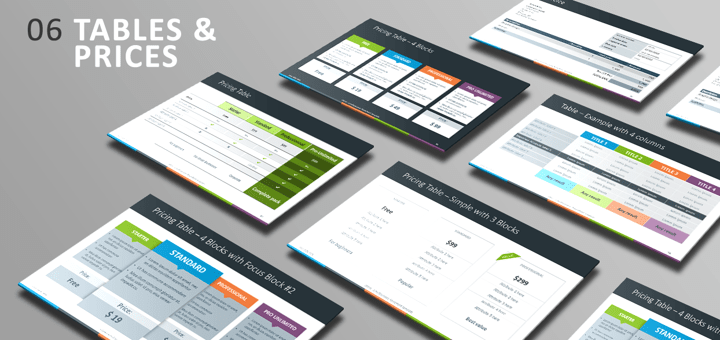 Ready-to-use pricing tables – must-have for every company that offers products or services. Bonus: invoice template slide. 12 slides.
Some examples:
07. Maps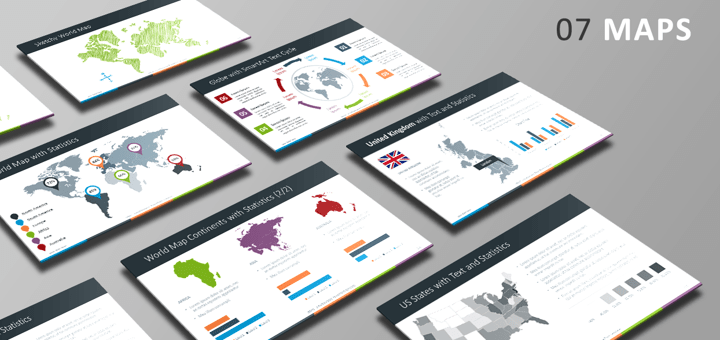 Editable maps of the world – outlines, with continents or stylish designs (dotted, sketchy). Plus a selection of countries: USA, Mexico, France, Spain, Germany, United Kingdom, India, South Korea, Indonesia and Thailand. Bonus: editable map pins collection. 24 slides.
Some examples:
08. Puzzle Diagrams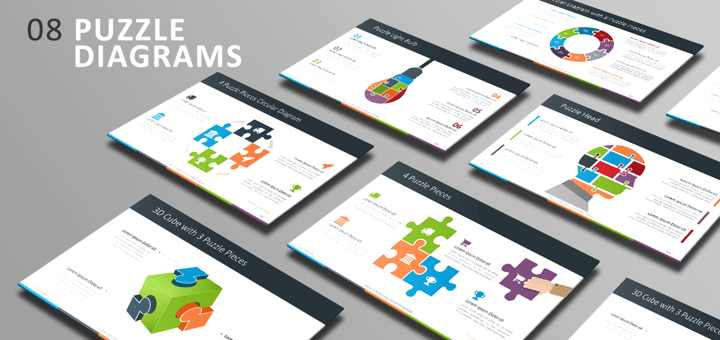 Objects and diagrams with puzzle designs. 10 slides.
Some examples:
09. Infographic Diagrams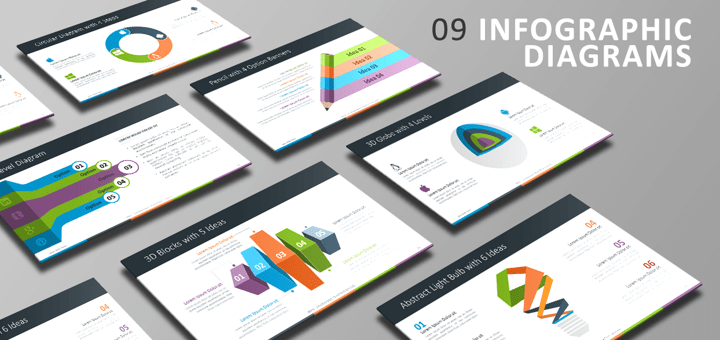 Extensive collection of infographic illustrations to show concepts or ideas. 12 slides.
Some examples:
10. Silhouettes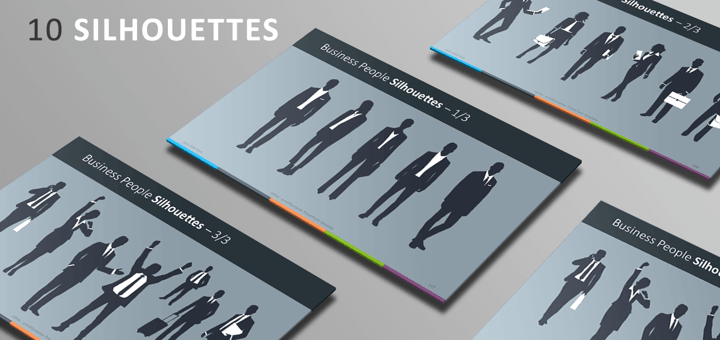 Editable silhouette of business people. 18 silhouettes, 3 slides.
11. Device Mockups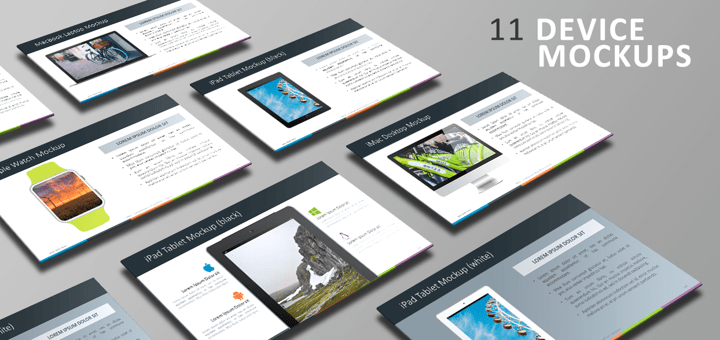 Showcase your images in (Apple) laptop, desktop, watch or tablet screens. 7 slides.
Some examples:
12. Timelines, Processes & Gantt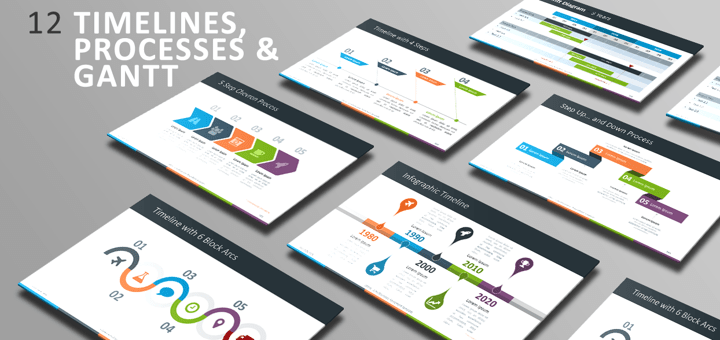 Use these creative diagrams for displaying a list of events, a chronology. The Gantt charts are the perfect templates for your project schedules. 10 slides.
Some examples:
13. Closure & Sections Slides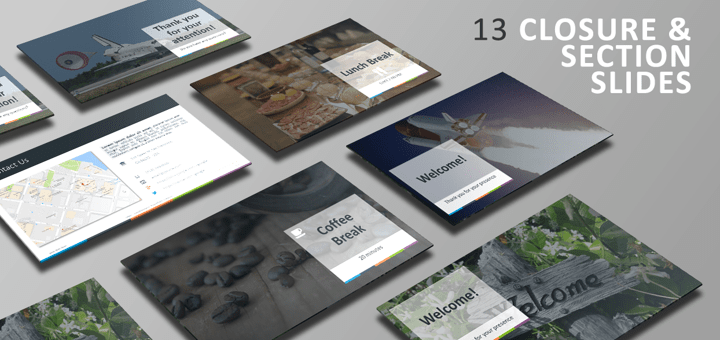 Different options to welcome your attendance, for a break or to close your presentation. Photos are completely free to use (as licensed under the Creative Commons Zero (CC0) license). 7 slides.
Some examples:
14. Icons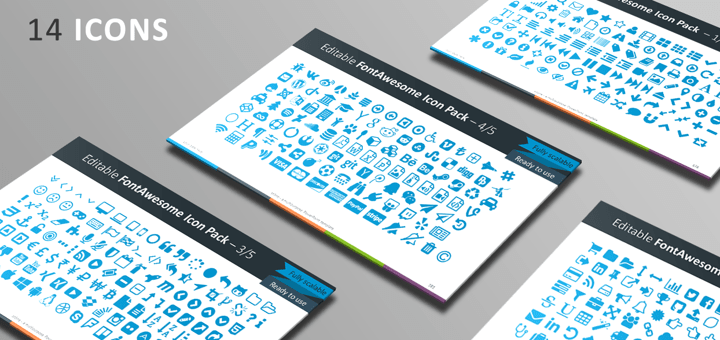 500+ editable icon elements. Crafted from the FontAwesome font. Sizes are fully scalable and color are easily customizable with PowerPoint.
Google Slides preview:
Note: this presentation template is optimized for/with PowerPoint. In this Google Slides preview as charts are inserted from PowerPoint – and imported to Google Slides, they won't be displayed correctly.
(Direct download from Google Slides is deactivated. To use this template with Google Slides, first download the .PPTX theme on your desktop, and then import it in Google Slides – read tutorial)
Download 'Större – Multipurpose PowerPoint Template' for free!