Free collection of dumbbell diagrams for your PowerPoint and Google Slides presentations. Editable, ready and easy-to-use.
The dumbbell shapes are two circular node shapes connected by a center beam (concave rectangle). They are very similar to infinity symbols, or bike chain links (or connectors).
These 2-dimensional shapes are great when combined or assembled to illustrate and build diagrams like cycles, processes, radial graphics…
Each presentation document contains a complete selection of 12 custom-made dumbbell diagrams variants with completely editable creative shapes and text placeholders.
Pick the dumbbell diagram you need from a complete range of design options: from three to eight-lobed radial diagrams, three-step process, pyramid, information list, cycle matrix…
2 (optimized) size layouts are available for your convenience: standard (4:3 screen ratio) and widescreen (16:9).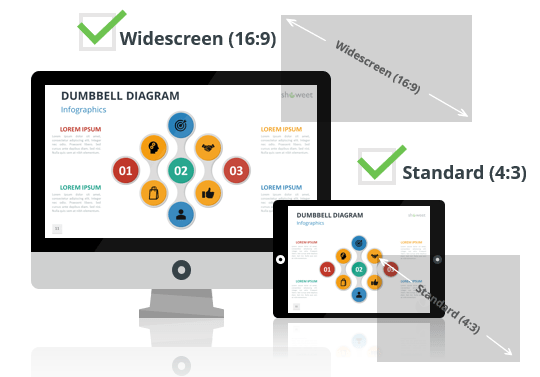 The document 'Dumbbell Diagrams for PowerPoint and Google Slides' features:
12 pre-designed unique, clean and professional slides
Fully editable content (graphics and text) via PowerPoint – No Photoshop needed!
Aspect ratios: Standard (4:3), Widescreen (16:9)
Format: PowerPoint (.PPTX) – created with PowerPoint for Office 365
License: Free – Attribution (please read carefully the 'Terms of Use' before using this template, restrictions may apply)
Free font used:
Slides included:
Google Slides preview:
Open and use the
Google Slides document
Download these 'Dumbbell Diagrams for PowerPoint and Google Slides' for free!