Free template for PowerPoint and Google Slides showcasing 21 speech balloons slide layouts. Modern and professional design. Great for business or personal use.
Flat design speech balloons
Speech bubbles are widely used in presentations. For example, they can illustrate inspiring quotes or important ideas.
PowerPoint already offers a nice collection of ready-to-use simple speech bubble shapes: the callouts. You can find them under the "Insert" tab (Shapes).
But still, you need some designer skills to customize them and get a WOW! effect from your audience.
Thanks to our template 'SPEECH BALLOONS', no need to be a designer to make your presentation (or at least some of your slides) really stand out!
This theme uses a bold flat design and a yellow + blue color theme (built-in palette). Speech balloon graphics are round styled. Almost cartoonish.
This template includes 21 ready-to-use slides. The format and styles (font, letter sizes, placeholders, colors) of each slide are already formatted (built in the slide master), optimized and then very easy to use.
More specifically, the PPTX/Google Slides document contains a selection of pre-made slides with various infographics – from general to more specific. For example, you can choose among layouts with silhouettes, timeline and process diagrams, a matrix or even SWOT analysis-related slides.
We hope you will like this template. Do not hesitate to let us know in the comment section! Stay safe everyone
2 (optimized) size layouts are available for your convenience: standard (4:3 screen ratio) and widescreen (16:9).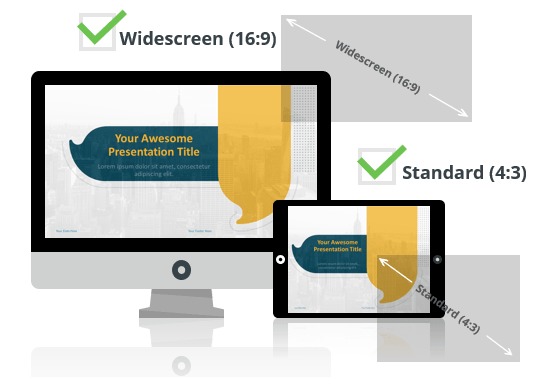 The document 'Speech Balloons Template for PowerPoint and Google Slides' features:
21 pre-designed unique, clean and professional templates (i.e. 21 slides)
Custom master slide layouts
Built-in color palette
Aspect ratios: Standard (4:3), Widescreen (16:9)
Formats: PowerPoint (.PPTX) – created with PowerPoint for Office 365 and for Google Slides (Cf. below)
License: Free – Attribution (please read carefully the 'Terms of Use' before using this template, restrictions may apply)
Free font used:
Slides included:
Google Slides preview:
Open and use the
Google Slides document
Download the 'Speech Bubbles Template for PowerPoint and Google Slides' for free!